Civic Leadership

1. How is Alternatives organized?


Alternatives is a nonprofit organization that provides research based youth development programs and training to organizations and communities that build on the strengths of young people in order for them to become healthy, principled and creative young people fully engaged in the life of the community.

We are governed by a volunteer board of directors in Hampton Virginia. Our executive team is led by the executive director, Ragen Johnson, and includes three centers: Training, Creativity, and Civic Engagement.



2. What is Youth Development?


Youth Development is defined as a natural process all youth undergo as they strive to meet their basic needs and build the necessary competencies for a productive and healthy life. This model approaches youth work from the perspective of focusing on the requirements for successful development, rather than the elimination of pathology (McLaughlin, Irby and Langman, 1993).



3. What are some other theories on which your work is based?


Resiliency, Social and Emotional Development, Healthy Child/Healthy Environment, Developmental Assets, Creativity, Youth and Adult Partnerships, Risk and Protective Factors, Prevention Technology/Community Development, Learning Organizations, and Experiential Learning.



4. Where does Alternatives work?


Alternatives currently is involved in over 45 local projects in the cities of Hampton, and Newport News that recruit young people and adults, train them to work effectively and efficiently with each other, and provides them with opportunities for these partnerships to set and accomplish meaningful results. These projects are located within elementary and secondary schools and within the school system's central administration, in city government, within neighborhoods, and on projects that impact entire communities. Alternatives also provides training the early childhood development curriculum, Al Pals: Kids Making Healthy Choices, across the nation, as well as youth worker training in youth development to youth serving organizations in the Hampton Roads region of southeastern Virginia.


For general media information contact:

Charles Robinson,
Communications Manager
757-838-2330
crobinson@altinc.org


​​​


Alternatives' Uth ACT Program

:
​Utilizing Service Learning to Address the Achievement Gap and Drop Out Crisis

​​

ADVOCACY:

Five teens from Alternatives' Youth Civic Engagement Program, Youth Achieving Change Together, went to Washington DC on May 23-24, 2016, to speak before a packed house of afterschool advocates, telling stories about the value of out of school time programming on the development of healthy youth, families, and communities. In partnership with VPOST (Virginia Partnership on Out of
​School Time) the teens also visited seven of Virginia's
​legislators to advocate for political support for the
​upcoming Senate Bill 326 (three-to-six, the time
​afterschool when young people most need engaging
​out of school ​time services and academic enrichment
​programs) Through their efforts, the teens experienced
the relevancy of social studies lessons, and worked to
improve afterschool for all youth.​​​

​Alternatives is proud of its Uth ACT members as
they now work to create positive change through
legislative advocacy.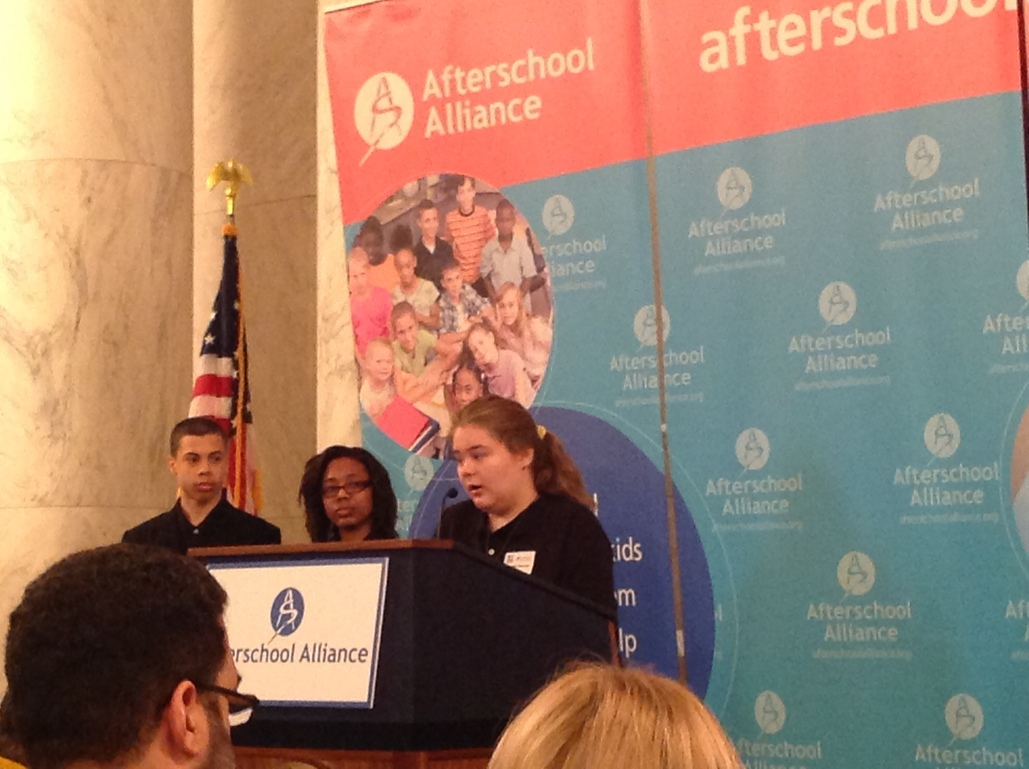 Alternatives' Uth ACT Participants Organize the GradNation Summit

AWARENESS:

Alternatives' Uth ACT participants organized the GradNation Summit. This one-day conference addressed barriers that prevent students from graduating. This event featured workshops, speakers, and thought-provoking activities to cultivate creative solutions. Daily Press

Uth ACT members reach 800 peers through the RELATE Program

​​​
EDUCATION:

This year, over 800 high school freshmen received 8 hrs. of relationship education from Uth ACT peer educators as part of their efforts to improve peer relationships in schools. Students who can't form positive relationships or who feel harassed at school are far more likely to drop out.

RELATE (Relationship Education Leading Adolescents Towards Empowerment)

helps teens learn how to create positive relationships and avoid dating and other violence.
Click here to watch a video interview of two of our RELATE trainers.
More Articles About Alternative's Youth Civic Engagement Programs

Alternatives' teens are recognized for their night of homelessness service-learning event. Daily Press