2011


The City of Hampton was selected as one of seven finalists for the 2011 Reinhard Mohn Prize awarded by the Bertelsmann Stiftung Foundation for Hampton and Alternatives' efforts in youth civic engagement. Hampton was awarded fourth place for all of its efforts of deliberative governance within city government, schools, neighborhoods, and the community at-large that promote and seek citizen participation from both youth and adults.

Sodexo Youth Serve America - Global Youth Service Day awared a "Plant Away Hunger" grant for the Hampton Teen Center community garden. The project, led by a team of AmeriCorps members was selected as one of the top five projects across the United States.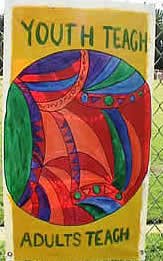 Civic Leadership

1973


Alternatives opens substance abuse treatment and prevention services in Newport News, Virginia.

1981


City of Hampton contracts with Alternatives for substance abuse treatment and prevention services.



1982


Representatives of the police, schools, community, and Alternatives form the
Hampton Intervention and Prevention Project (HIPP).



1985


HIPP program is featured in national news special on ABC television.

1986


HIPP named one of top twenty prevention programs in the nation by the National Association of State Alcohol and Drug Abuse Directors.



1987


Alternatives establishes the first Just Say No clubs in Hampton City Schools.



1989


Studies reveal 52% drop in drug related suspensions and 71% drop in drug related
expulsions since the start of HIPP.

1990


HIPP receives Outstanding Service award from Regional Center for Drug Free Schools.



1991


HIPP recognized with Governor's Award for Anti-drug efforts.



1992


Alternatives expands services beyond prevention to the practice of Youth Development.

1993


Neighborhood-based youth development projects begin in Hampton.



1994


Alternatives receives the Director's Community Leadership Award from the U.S. Department of Justice Federal Bureau of Investigation.



1995


Just Say No marks its tenth year with over 4000 in attendance at the annual event.

1996


Alternatives enters the cyber age. YouthLink, the first Internet site by and for youth in Hampton Roads.



1997


Alternatives celebrates 25 years of service.



1998


Youth Development programs created by Alternatives are recognized by Washington based national youth journal Youth Today as a model for the nation.

2000


Alternatives is recognized for "Serving as a National Inspiration" by The National Center for Youth Development and Policy Research, Washington DC.



2003


Alternatives is the first organization in Virginia to be State certified with a Department of Labor youth worker apprenticeship program.



2004


R.E.L.A.T.E. (Relationship Education) program and training curriculum is developed for Statewide distribution.

Alternatives' Monart Drawing School is certified by Monart International. It is the first school in Virginia.

2005


Alternatives wins the Senator Harris Wofford Award from Youth Service America

Alternatives named B.E.S.T. Regional Trainer by the National Training Institute.

Alternatives conducts Career Studies Certificate in Youth Development at Thomas Nelson Community College.

Mattel Children's Foundation supports innovative Monart Drawing to Read program for preschoolers.



2006


Alternatives' service learning partnerships are recognized with the "Talking Smart" award from the National Service Learning Parternership.

2007


Alternatives named lead agency for the Communities Empowering Youth, White House Initiative.

For the second year in a row Alternatives is cited as nonprofit partner by the cities of Hampton and Newport News when selected as Winners of 100 Best Communities for Young People by America's Promise -The Alliance for Youth.



2008


Southern Growth Policies Board Presents Alternatives' and the City of Hampton the 2008 Virginia Innovator Award for Youth Civic Engagement Partnership.

2009


National League of Cities cites Alternatives' and the City of Hampton for its "cutting edge Youth Civic Engagement initiative" in their 2009 report, State of City Leadership for Children and Families. The report was released at 2009 National Summit on Your City's Families.



2010


Innovations in Civic Participation (ICP) and America's Service Commissions (ASC) publication "Transforming Communities through Service: A Collection of 52 of the Most Innovative AmeriCorps Programs in the United States," cites Alternatives, Inc.'s Peninsula AmeriCorps Serve and Support (PASS) as one of the most innovative programs in the country.